Believe it or not, but I had never done a bun in my hair before this. To help me, I followed this step-by-guide from one of my favourite blogs, Chocolate Hair, Vanilla Care, in their post on
The Sock Bun
.
I did this on the day after the
Failed Wash 'n' Go
. Meaning, my hair was already stretched. But, because it had been loose all day and to ensure it was better stretched for the bun, I did the same big two strand twists with the hair band at the base.
As explained by CHVC, I pulled all my hair into a ponytail and then placed a rolled up leg from a pair of opaque tights (or pantyhose if you are American) with the toe cut off over the ponytail. This is to give the bun height and shape. A ponytail holder on its own is insufficient. Try and use black tights, so that in case you make a mistake with spreading your hair, you don't expose a but of brown or any flesh coloured tights in your hair.
Also, I used a knee high instead of full tights and as a result, had to use two pairs. So dear reader, use proper tights please as advised by Ms Rory at CHVC.
You can buy a hair doughnut in some countries or online if it is available. But for we here in Africa, such trivial expenses become a big deal to bring it in to our respective countries, so this sock works just fine thank you.
Next, you find the centre of your 'ponytail' and separate it, then smooth and tuck it under the sock, making a bun. Secure your bun with an ouchless hair band (no metal band), which you can see I did in the picture.
After this, I applied
Eco Styler gel
to my hair. Eco styler is a non alcohol gel which doesn't dry your hair or flake. An alternative to this is homemade flaxseed (linseed) gel or a little bit of aloe vera gel. What you are aiming for is some hold to your hair to smooth it down, but not dry it out.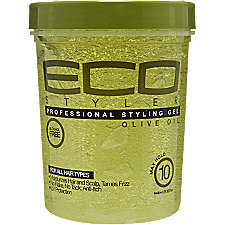 Eco Styler Gel (Olive Oil) – source
Lastly, I tied a satin scarf around my hair, including over the bun. As explained in the Failed Wash 'n' Go, this is to smooth the hair down, getting rid of any frizziness and also to give it time to set. The 30-45mins it takes me to get dressed and drive to work is sufficient for me.
The beauty of eco styler is that you just wet the hair slightly and the effect of the gel returns. You don't need to wash it out or re-apply it daily, unless you want to.
A side benefit for me was discovering the natural curl pattern in my hair. I didn't realise my kinky hair could do this. I thought it only happened to people with mixed hair (or 3a/b/c hair if you follow hair typing system).
My head really hurt the whole day, which was probably because it was too tight. Also, to avoid placing too much stress on my hairline, I would only wear this style occasionally. I love my hair too much to damage it with a cute style.
.